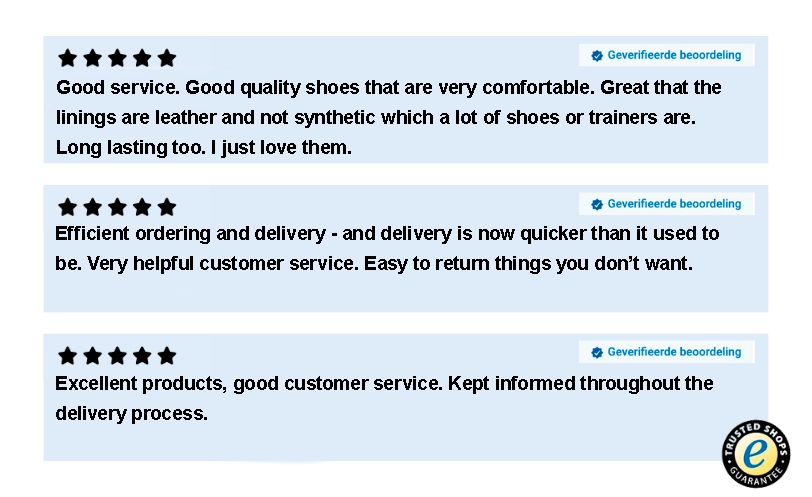 SAFE ONLINE SHOPPING AND REVIEWS FROM REAL CUSTOMERS
At Wolky, we are dedicated to providing you with a pleasant online shopping experience. Our customers consistently rate our webshop with an average of 9.3, a testament to our commitment to excellence.
The reviews we collect are invaluable in helping you make informed decisions. To ensure the authenticity and reliability of our reviews, we've partnered with Trusted Shops. Trusted Shops evaluates and awards a certification to reputable and secure webshops, offering an independent review system.
VERIFIED REVIEWS FROM REAL CUSTOMERS
After placing an order at Wolkyshop, you will receive an email with a request for a review after a week, inviting you to share your experiences with others. This process contributes to safe online shopping and assists others in finding the perfect pair of shoes. The review covers two aspects:
The overall webshop experience (delivery time, communication, user-friendliness)
The product itself (fit, colour, quality)
These reviews are managed through Trusted Shops, which means we have no influence over them. You'll receive the email from Trusted Shops, ensuring that the reviews are 100% trustworthy.
The webshop reviews are consolidated on our Trusted Shops review page, providing an honest representation of customer experiences. Wolkyshop highly values these reviews, allowing us to continuously enhance our service and provide you with an optimal online experience. Our customers have rated us with a 9.3 - we take great pride in this achievement!
WHAT DOES THE TRUSTED SHOPS SEAL MEAN?
In addition to the review system, Trusted Shops also awards a seal to safe, good websites. Wolky has this seal as well! The Trusted Shops Seal is a recognised and respected quality stamp in the world of online webshops. It is an independent certification program that stands for transparency, reliability, and customer satisfaction. When you shop with us, you can trust that we meet strict requirements in terms of data protection, price transparency, and customer service.
WHAT DOES THE TRUSTED SHOPS SEAL MEAN for you as a customer?
Secure payment environment: Our webshop provides a secure environment for all your transactions. The seal ensures that your financial data is processed and secured correctly.
Protection of personal data: We take your privacy seriously. The seal requires strict compliance with applicable laws and regulations for data protection, meaning your personal information is in good hands with us.
Fair and clear communication: The seal sets requirements for the transparency of prices and conditions. You can trust that we provide honest and clear information about our products, prices, and delivery terms.
Buyer protection: As the holder of the seal, we offer you free buyer protection up to €2500. This insurance applies automatically to all your orders from all webshops with the seal. This means extra security for your purchases.
HOW TO IDENTIFY THE TRUSTED SHOPS SEAL ON OUR WEBSITE?
You can recognise the Trusted Shops Seal by the logo displayed on our website (see bottom right, at the bottom of this page). On the Trusted Shops website, you can access evaluations from other customers and check the valid buyer protection.
WANT TO KNOW MORE ABOUT THE REVIEWS OR ABOUT TRUSTED SHOPS?
CONTACT US, WE'RE HAPPY TO HELP YOU.
Treat
These shoes are of excellent quality! And do you want to keep them that way? Then we recommend that you use the following products.