AUTUMN TRENDS SHOES 2023
The end of our summer is approaching. Whilst this can make us a little wistful, it can give us something to look forward to. Because now that the sandals and flip-flops go back into our wardrobes, it is now a great time to shop for fun new shoes for autumn!  Tough lace-ups, classic ankle boots, cowboy boots or just a great pair of trainers: in autumn, you can still do anything with your footwear. And, if you really want to look fashionable, choose one of this autumn's shoe trends. Find out what these trends are for 2023 in this article.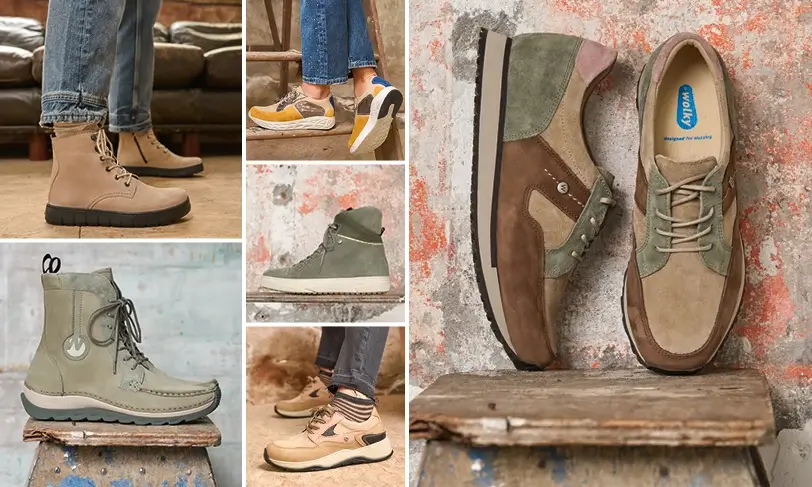 SHADES OF BROWN MAKE A COMEBACK
This autumn we will see many shades of brown. From light sand to deep browns like coffee and chocolate. This fits perfectly with the three trend colours we have chosen for Wolky's autumn collection: safari, grey-green and taupe. These light and earthy colours are a nice change from the more classic darker autumn colours of cognac, dark brown and black. But don't be afraid that these lighter shades of brown will make your shoes look dirty or old quickly. At Wolky, they are primarily made from nubuck, a material that you can maintain excellently with carbon pro wax. We recommend buying a bottle right away with your next purchase, so you can extend the life of your shoes. Just spray every now and then and your shoes will be protected against stains and the inclement autumn weather.
TREND COLOURS FOR AUTUMN
Safari, grey-green and taupe match the latest autumn trends perfectly. Which shoe do you like?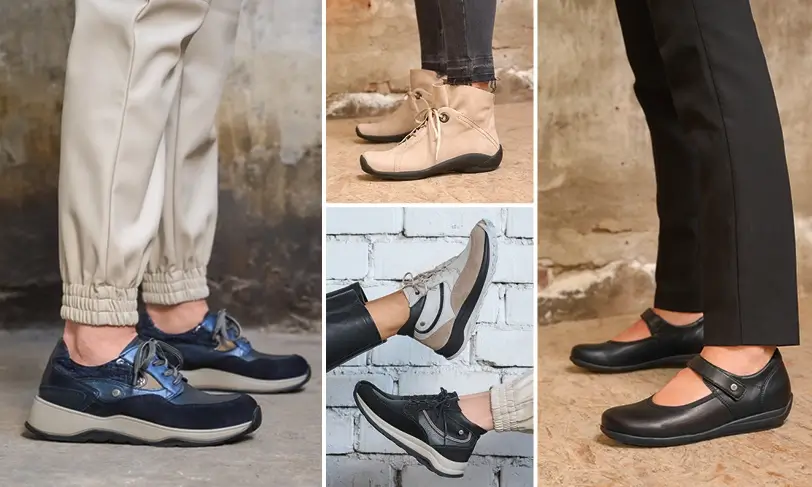 WALK AT YOUR BEST
This autumn is going to be all about comfortable footwear. It's all over fashion magazines: this autumn we will do everything we can to look comfortable. Easy trainers, fine loafers and the always-good lace-up boot are styles that we will see a lot of again this autumn. Well, if you like comfort, you've come to the right place at Wolky. For 40 years, we have done nothing but design the most delightful and comfortable shoes. You can walk for hours in them, thanks to the ergonomic foot beds and high-quality materials we use. Many of our shoes have been adapted for people with orthotics, thanks to our removable soles and zips that make it easy to change the insoles.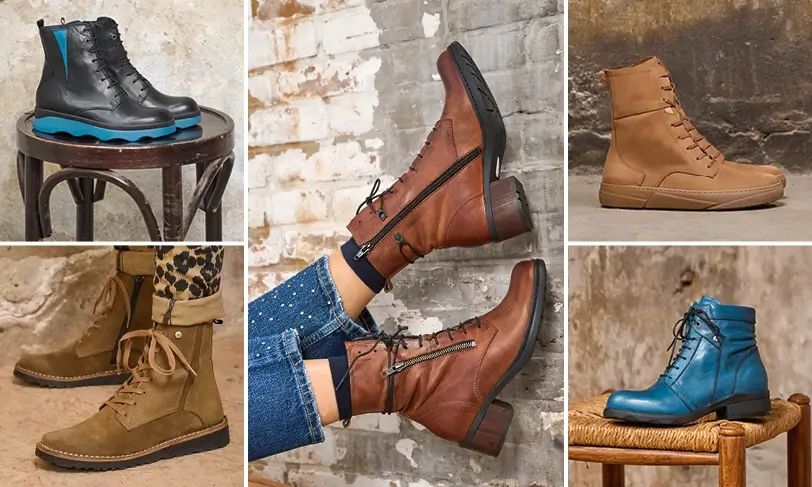 LACE-UP BOOTS
They have been trending in recent years and this isn't changing this autumn: lace-up boots are still hot. Not surprisingly, because these comfortable boots are everyone's friend. Formerly worn during the punk era, these days it is hard to imagine the streets without them. They look good with everything and can withstand UK autumnal weather. You will not easily get cold or wet feet in these boots.  And, because you don't always feel like threading all those laces, Wolky has made it easier for you with a handy zip. This way you get the cool effect of the lace-up boot without having to spend time putting your boots on.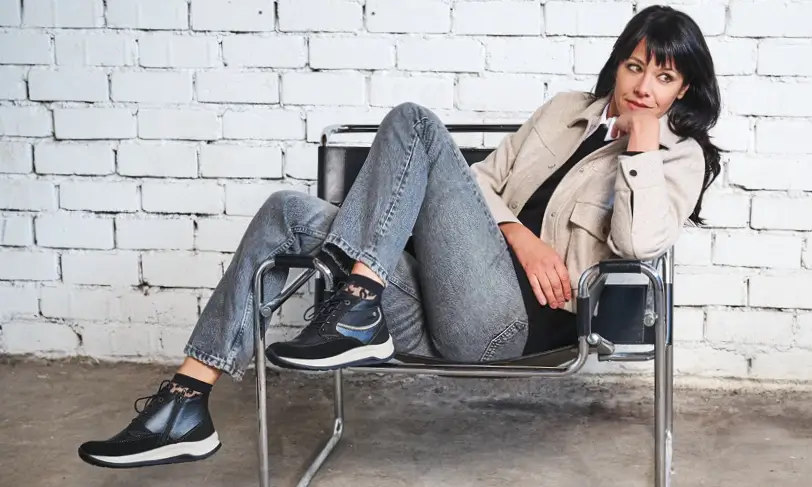 BUY THE AUTUMN COLLECTION IN OUR ONLINE SHOP
Did you know that our entire autumn collection can be found online? In our well-organised webshop, you can see our full range of autumn footwear. You can search by type, colour and heel height to find your ideal pair. And if you want to search even more specifically, you can do that too. You can even filter by specific shoe preferences for your feet, such as half sizes, extra wide shoes and shoes for hallux valgus or diabetes.  To make the online shopping experience even more enjoyable, you can pay afterwards and return free of charge. So if a shoe was not quite what you expected, simply send it back to us. Visit the webshop to view our entire collection.
Treat
These shoes are of excellent quality! And do you want to keep them that way? Then we recommend that you use the following products.