Sandals with removable footbed
Anyone who has custom-made soles may find it a challenge to find shoes with interchangeable footbeds. This may be even more challenging during the summer months: many flip-flops and sandals have fixed footbeds, making it impossible to swop for your own soles. Often you are faced with a choice: do you go for a sandal with a fixed footbed and therefore reduced comfort, or do you opt for a shoe, which has that interchangeable sole? At Wolky be believe that you should not have to make that choice. Even with our soles, we believe that it should be possible to wear sandals and experience optimal comfort. This is why we have an extensive range of sandals with a removable footbed. Whether you opt for leather sandals, adjustable sandals or even vegan sandals with removable footbed: you've come to the right place at Wolkyshop.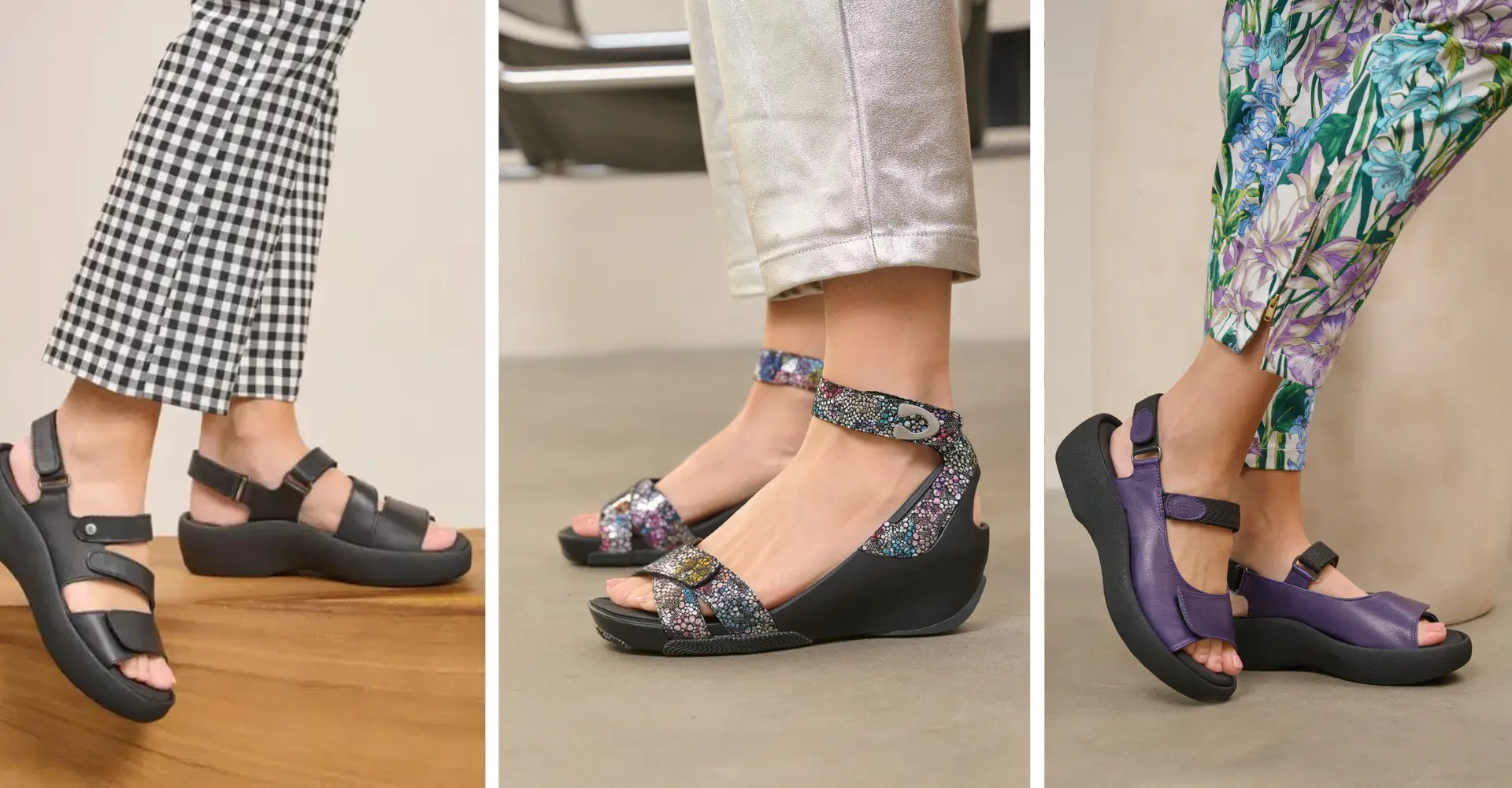 Wolky sandals with removable footbed
At Wolky, we believe that everyone should be able to enjoy that wonderfully airy feeling of sandals - without sacrificing comfort. Even when you have to wear custom-made soles! That is why we have designed an extensive collection of sandals with a removable footbed, which we would like to present to you here.
Sandals for custom made soles
On many (online) shops, you will only find sandals with a fixed footbed. From a design point of view, this makes sense: it can be quite complicated to develop sandals, which allows you to interchange the soles, without compromising the look of the sandal.
Fortunately, Wolky has over 40 years of experience in making comfort-sandals. We came up with a solution, which allows you to use your own insoles due to us providing interchangeable footbeds. The Jewel, a sandal we designed over 25 yeara ago, is Wolky's first sandal with a removable footbed and that was unique at the time. Women with their own (arch) soles could suddenly wear sandals. This fantastic sandal has delighted countless women's feet for the past 25 years. The Jewel is still one of our best-selling removable footbed sandals, but now we have many more.
Have a look at styles like Wolky's Delft, Epoch, Era, Rio, Rolling Sun or Salvia. You can walk for hours in these sandals, already extremely comfortable and allow for your own insoles to be fitted. One of these styles has a Velcro closure, the other with a chrome-free inner lining and another even completely vegan. No comfort is spared even with your own custom-made insoles.
BUY WOLKY SANDALS WITH REMOVABLE FOOTBED ONLINE
Go for sandals with a removable footbed this summer. We've listed our all-time favourites just for you! Here you will find our sandals with interchangeable footbeds ensuring your get the best comfort this summer. 
DISCOVER WOLKY'S COLLECTION OF SANDALS
All Wolky sandals are made from leather and of course have that well-known Wolky fit. Many of our Wolky sandals have an interchangeable footbed, allowing you to use your own insoles for your personal comfort and peace of mind. Many of our sandals are also equipped with Velcro allowing you to easily adjust the sandal around your foot for that perfect fit. In addition, our large collection of sandals are also suitable for people with a wider or fuller foot. We have something for everyone!
COMFORTABLE SANDALS
Comfort remains key when we design our shoes. This is why all shoes at Wolky.co.uk come with the most comfortable features. To make you happy this summer, we have a wide range of sandals. Just think of special sandals with their own soles, sandals with custom-made (support) soles and sandals with your own footbed. Did you know it is easy to filter our sandals showing those with a removable footbed? You can do this by going to sandals and then choosing removable footbed -> yes. This does not only apply to our sandals collection: for all shoes in our collection you can filter for shoes with a removable footbed. This way you can be sure that you can use your own custom made in-soles within our sandals (and shoes)!
HAPPINESS IS A PAIR OF WOLKY SANDALS THIS SUMMER
Ready for a summer walk or a day at the beach? Then treat yourself to a pair of fantastically comfortable Wolky sandals. But will you go for a classic sandal or one with a heel? Wolky has sandals for everyone. Not sure which sandal suits you best? Please contact our customer service. They are available from Monday to Friday to answer all your questions!
Treat
These shoes are of excellent quality! And do you want to keep them that way? Then we recommend that you use the following products.